The interstate has officially been opened for business as of today. Consider Pulau Langkawi first if you're concerned about where you'll be spending your next weekends and holidays. Unless you're a native Langkawian, you might be wondering how long it's been since your previous trip to the Island! Here are 7 must-see and stay-at locations in Langkawi!
The first is Skybridge. 
For the time being, If you have not visited Skybridge in order to take pictures or check in. People won't believe you have been to Langkawi! You should definitely think twice if you're frightened of heights. Skybridge is only accessible after visiting the Oriental Village and then taking the Skycab to the top station. The trip to the top station takes around 15 minutes!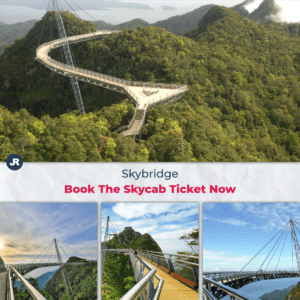 BOOK THE SKYCAB TICKET NOW AT PANORAMA👉 https://panoramalangkawi.com/skycab/#
Then, at the top station, take the Skyglide for a quick 2 minute ride to Skybridge! For those who like the process of sports, you may walk approximately 10 minutes on the mountain road to reach there. You can also take in the scenery while walking and breathe in the fresh air of the mountains!
When you arrive, you'll be greeted with a stunning blue sky, white clouds, and a 360-degree panorama! The Sky Bridge has a length of 125 metres and swings at a startling altitude of 687 metres!
The second is Underwater world.
Tropical rainforest and river habitats, temperate and sub-Antarctic climates, and marine life are all represented in the aquarium's three major zones.
Numerous exhibits, including a freshwater fish area, shell display area, koi pool, reptile area, invertebrate area, coral reef area and viper area, are included in the aquarium's price of admission.
More than 500 marine species, including thousands of different fish, may be found in the oceans, including puffer fish and tropical fish. Other water creatures include sea otters, jellyfish, starfish, and seals. The Rockhopper and Black-footed Penguin are, without a doubt, the most striking creatures on display here!
Booking the package now at RM32.00👉 https://invol.co/cl6mu1a
The third is Wildlife park and Bird Paradise
Because Wildlife Park is indoors, you will not be exposed to the sun while seeing the animals. This is not the same as a regular zoo. It has both caged and free-roaming animals. Some tame animals live in the free-moving area.
Wildlife Park is a must-see for every family visiting Langkawi over the holidays. Don't allow the kids to gaze at the phone; instead, take them to learn about different types of animals and birds, and let them experience the joy of feeding animals!
PACKAGE AT ONLY RM28👉https://invol.co/cl6muc7
The fourth is Pulau Payar Marine Park.
This is Langkawi's first marine park, and the water is extremely clean. On this 7-hour snorkelling excursion at Pulau Payar, you'll get to see coral reefs and baby sharks.
The island is covered in lush and green woods, and the white and sandy beaches, turquoise waters, blue sky, and white clouds add to the island gorgeous beauty. Of course,it's also a great spot for snorkelling and diving.
The fifth is Time Travel Panorama Langkawi.
Malaysia's first Imaginarium invites you to journey your mind and explore the limits of your imagination! A unique place full of creativity, immersion, and interactive exhibits will transport you to another universe full with limitless possibilities.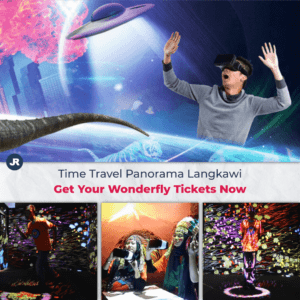 Get your Wonderfly tickets now and go on an amazing journey👉 https://invol.co/cl6mukl
The sixth is 6D Cinemotion by Panorama Langkawi.
6D Cinemotion's 5D special effect chairs let you see a 3D stereoscopic movie in totally new dimensions.
A wide variety of 3D movies are available, including Aladdin, Dinosaur World, Minions, and more!

Book the 6D Cinemation now at KLOOK👉https://invol.co/cl6mup8
The seventh is Splash Out Langkawi Water Theme Park.
Spend a fun-filled day at Splash Out, Langkawi's famed water park, after a long day of touring! Attractions like Wild Water, Sprinkle Island, and Poseidon's Revenge are among the twelve available to you.

Splash Out Langkawi performed routine cleaning, such as sanitising sessions, in the immediate vicinity and at the facility, during the MCO time. Visitors may also use hand sanitizer, a face mask, and a thermometer at the water park.
Book the best price at👉https://invol.co/cl6muqa