Well-known Apple analyst Ming-Chi Kuo said that a punch-hole design will be used in high-end iPhone models in 2022 which is iPhone 14! It is also reported that the two Pro models of the iPhone 14 series will use a punch-hole screen design, while the standard version of the iPhone 14 and iPhone 14 Max will still be bangs. In addition, the return of TouchID fingerprint recognition is unlikely.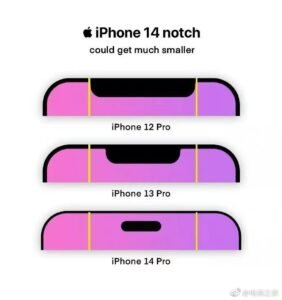 (Image: The transition from iPhone 12 Pro to iPhone 14 Pro)
Apple's bangs design has always been a hallmark of the iPhone's design language. The new punch-hole screen requires Apple to install multiple sensors and TrueDepth systems on a smaller area. The integration is quite high, and the era of bangs is coming to an end. 
(Image: Comparison of iPhone 13 and iPhone 14 design)
In addition to the news of the iPhone 14, the news of the iPhone 15 also broke out on the Internet, pointing out that its rear camera is said to adopt a periscope design, that is, like a periscope, when light enters the camera, it will produce a 90-degree refraction, so that The camera does not need to be made too high, and there will be no protrusions!
(Image: Different parts of iPhone 14 (rumours) )
In the past two years, Apple has been very resolute. To have money is to be self-willed, and it can do a lot of things that others can't do!