#1 What does "Thaipusam" mean in English?
Thaipusam celebration is coming on 18 Jan this year, according to the Indian calendar, "Thai" refers to the Thai month, which is also called October in the Gregorian calendar. When the Gregorian and Indian calendars are switched, the Thai month usually falls between January and February. The title. When there is a full moon in Thailand, in Indian astrology, the constellation Pusam moves to the highest point of the year. Because of this, Hindus celebrate this celebration on the full moon of the Thai moon.
He said in an interview with Global Insight that the main character of Thaipusam Celebration is Murugan because the festival is the day of Murugan's birth, which makes him the main character of this festival. As a god of war, Murugan is the most important one at this day
#2 Why Do We Celebrate this Celebration?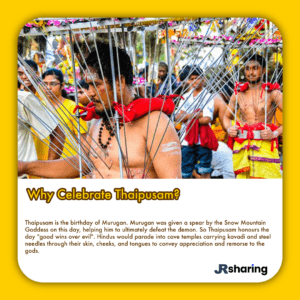 As with the Lunar New Year, Thaipusam also has a storey behind it.
It is the birthday of the god of war, Murugan, and Hindus around the world celebrate it. A spear was given to Murugan by the Goddess of Snow Mountain on this day. This allowed him to finally kill the devil and end the war. So, this day or commemoration of the day when "good" beats "evil."
Thaipusam has also become a festival of atonement as it has changed over time. Use steel needles to go through skin and cheek and tongue. Carry kavadi on your back as you parade into the cave temple to thank the goddesses for their help.
#3 Is Thaipusam bigger in Malaysia than it is in India, or is it both?
This is a Hindu festival, but every time there is a people of non-Indian descent and even people from other countries are all over the place at this huge festival. This year, because of the spread of the covid-19, it is not possible to celebrate and parade in the streets like in the past.
Despite the fact that Thaipusam came from India, this day in Malaysia is small and not as famous as the one in my country, which may be because Malaysia is in the middle of the world. In my country, Batu Caves is a very important cultural, historical, and tourist attraction. The Thaipusam Festival has also gained a lot of popularity because of this, and even a lot of tourists have come to see it.
Then, after reading this, does it dawn on you that you don't know very much about this festival in Malaysia. It doesn't matter if there is a holiday or not, and it doesn't matter. Only if you know the true history of Thaipusam in Malaysia can you understand what it means! In 2022, I don't know if this Festival for this year will have a set of SOP in Malaysia or not but I hope everyone can take care of themselves and remember to be hygienic.